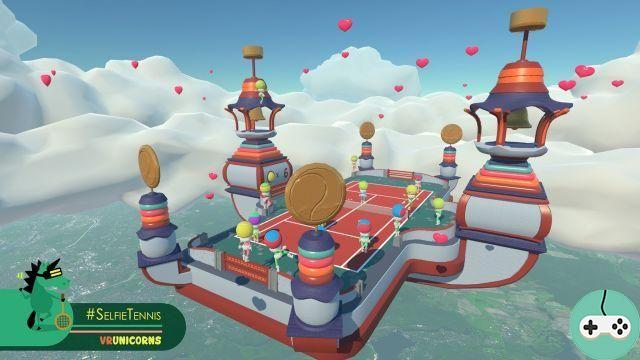 There are games which, as soon as you look at the description, make you want to play them. Others who on the contrary do not really attract. I admit that I was not particularly excited initially by #SelfieTennis, developed by the independent studio VRUnicorns. I let you see the video quite ... unique!
Having promised a test, however, I had to get started. I put my HTC Vive on with a bit of trepidation at the idea of ​​crossing unicorns in this completely crazy looking world (Devolver's hallmark at the same time). Without any introduction, I find myself on a tennis court. All over the place, big bullfighters.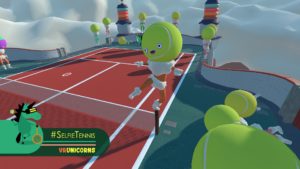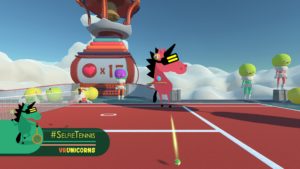 Without really knowing what to do, I realize I have a racquet in my right hand when I pull the trigger. And a bullet in the left hand. I take a few tries before I manage to synchronize the two and I throw my first ball! A Steam exploit. Note that for left-handers it is possible to reverse, ball on the right and racket on the left.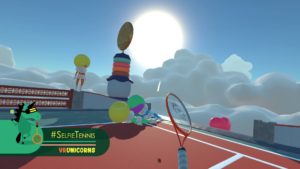 As soon as the ball goes past the net, the camera changes perspective and places me on the other side with a little lag allowing me to see where the ball is coming from. Not easy, especially since the field is really big and my playing area is much smaller. So, even though the game automatically puts me close to where the ball is going to land, sometimes it's just not possible to return it without risking sprawling on the nearby desk.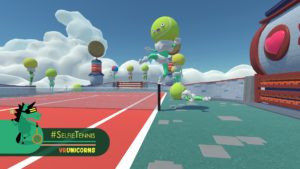 I manage to make 4 or 5 exchanges at most, not being very good at tennis. But I admit it's pretty fun after all. On the other hand, I did not always understand why I missed the ball several times while I was in the axis, it seems that there is sometimes a bug with the ball passing through the racket if the movements are too fast. Likewise, the ball sometimes goes under the net, the rascal!
A little by chance, I discovered that it was possible to interact with the decor and in particular to knock on the figures. This unlocks Steam Achievements and creates obstacles on the ground as they fall loose and pile up anywhere. I only managed to hit the coins that spin around the four corners (Steam success!), But I presume that must do something with the bell too!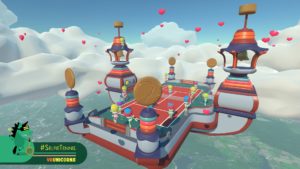 In the end, #SelfieTennis turned out to be a fun and entertaining little game, an unpretentious virtual reality experience that entertains for about thirty minutes of slapping in the mouths. We are certainly here far from the impressive immersion of space simulations but there is no denying it, it works and rather well. Gameplay is good and the HTC Vive's two controllers lend themselves perfectly to racquet games. On the other hand, I admit that for € 19,99, it is a bit expensive for half an hour ...