The information in this guide comes straight from the test server, where update 3.2 has been available since last night. This information could change somewhat between now and the official release of the tool called "The Outfit Designer" or "Outfit Designer" in English.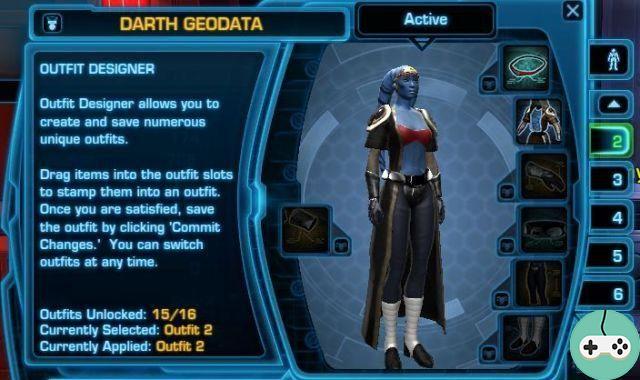 Description
The outfit designer is a tool that is added to the current equipment system in your character sheet. The image below shows you what the different added options look like and what they are used for.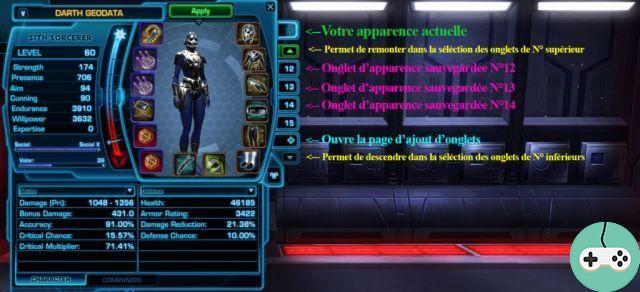 Each tab will allow you to define a different look for your outfit. You can modify the following 7 elements: Head, Torso, Gloves, Belt, Bracers, Legs, Feet.
To change their style, you just need to drag the new appearance to the location of the part you want to change. Each change costs 14k credits, the total is 98k credits per tab if you change all armor.
The window for changing the dyes is as follows, it will allow you to view the new color piece by piece before validating the application of the dyes.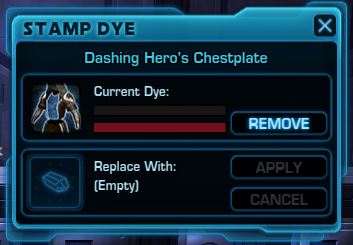 Restrictions
Modifying the appearance of your equipment obeys the following few rules:
No equipment quality restrictions (orange / purple / green / blue .... all colors are eligible)
Armor type restriction: Light armor will not be able to equip the appearance of a heavy or medium type piece
There are only 16 tabs available that you will need to unlock for credits.
Changing the appearance of a piece of equipment has a variable cost depending on the number of parts to be changed (~ 100k credits if everything needs to be changed).
The dyes applied to the equipment apply to all tabs.
Stains can only be applied to a single tab, but modifying the part destroys the stain.
You will be able to unify the parts one by one as usual and the displayed appearance will be unified normally.
Legacy equipment is currently compatible with this system. This therefore does not restrict the possibility of transferring modules / armor / sophistication in this way, contrary to the fears that may have been expressed.
Cost
Each tab has an unlock cost.
Tab 1: Free.
Tabs 2 to 5: 20k unit.
Tabs 6 to 10: 40k unit.
Tabs 11 to 15: 80k unit.
16 tab: 200k.
In short, here we are with a new tool to "save outfits"