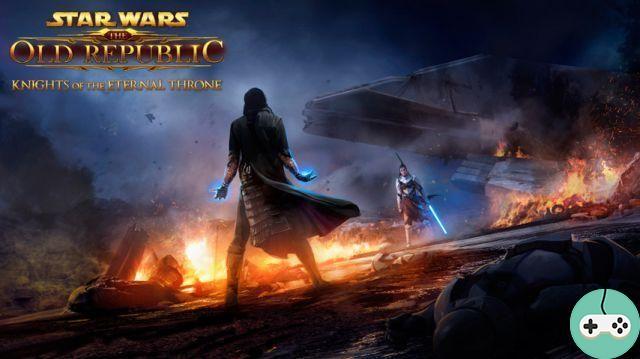 The first official information on the class changes that will be implemented with the arrival of 5.0 has been posted on the official forum. We therefore find these announcements grouped by base class:
Bounty Hunter / Soldier
Sith Warrior / Jedi Knight
Inquisitor / Consular
Imperial Agent / Smuggler
Before going into the details of these specific modifications, let us note that each class will have new uses, a new mechanic and that the announced changes tend to increase the feeling of belonging to a role of melee or distance for DPS specializations.
Bounty Hunter / Soldier
Specialists and Avant-garde were among the popular choices following KOTFE. The team marks with these modifications its desire to separate it even more from the Mercenary. So for the Spécialiste, three new spells will come with 5.0, replacing Death from the sky, Explosive dart (will be reserved for Mercenaries) and the Flamethrower which is removed from the game. Likewise, theAvant-garde will gain three new spells replacing the Pole of Mortar, Adhesive Grenade (will be reserved for Commandos) and Pulse Cannon which is removed from the game.
For its part, the Mercenary and Commando, often criticized for their weak defense in PvP, are provided with a new defensive spell which absorbs a target's damage and reflects 50% of it and heals the player for 5% per attack returned.
Finally, three new legendary uses different are added to each of them and we invite you to go to the official post of the class for more details concerning all these modifications.
Bounty Hunter / Soldier
Sith Warrior / Jedi Knight
The Maraudeurs and pests see their mobility improved with the removal of the Rampage pipeline. Likewise for guardians et sentinels Blade dance is renamed and will now be instantaneous. Maraudeurs et sentinels are therefore improved in mobility and gain a new spell in Carnage or Combat specialization, reducing mobility and opposing armor. The pests gain the possibility of using the protection without restriction of form and a new power in discipline Vengeance / Vigilance.
For everyone's safety, three new legendary uses different are added. You can find them in the following class sheet.
Sith Warrior / Jedi Knight
Sith Inquisitor / Jedi Consular
Similar to Bounty Hunters and Soldiers, Contact Classes Inquisitor et Consular will be more differentiated from remote classes. So many remote spells become exclusive to Wizards and Scholars. Conversely, Assassins and Shadows will have theexclusive on saber strikes formerly communes. The Wizards / Scholars being seen as relatively well balanced, they have little change and gain in resistance and mobility. Conversely, by observing The Assassin and the ShadowThey were a little too mobile compared to other classes. So the Phase shift will now be exclusive to remote.
Finally, here is the link to the post of the Inquisitor and Consular providing more details on these modifications and three new legendary uses.
Sith Inquisitor / Jedi Consular
Imperial Agent / Smuggler
Let's end this class tour with the Secret Agent and the Thief who learn new powers that, if used properly, could prove dangerous. Two spells also become them exclusive but they lose the use of two ranged spells and de the cover who will now be reserved for Snipers and Mavericks.
You can also find all of these modifications on the forum and the three legendary uses by following the link below.
Imperial Agent / Smuggler