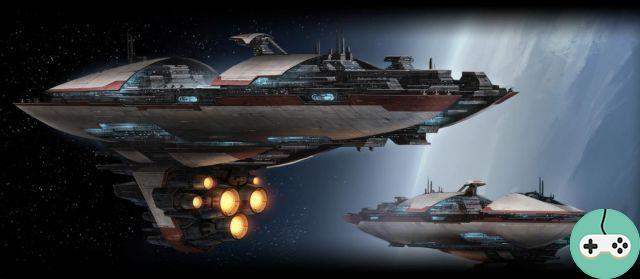 All our guides on Galactic Strongholds
As we have seen for decorations in fortresses, crew skills take on even more importance. They will be used to craft items to earn contribution points for Conquest mode, as well as to buy useful items, such as the Walker mount or the bombardment.
Here is the list of recipes to make them.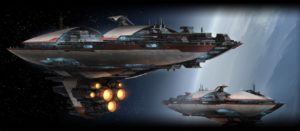 Military reserves
Cybernetics / Weapons / Armor
Synthweaving / Artifice
Biochemistry
Type 1: Armored vehicles
Bronzium (Tier 2 Salvage Metal) x16
Chanlon (Tier 2 Salvage Metal) x16
Phobium (Tier 3 Salvage Metal) x16
Type 1: Ship weaponry
Plastoid (Tier 2 Salvage Compound) x16
Plasterboard (Tier 2 Salvage Compound) x16
Lacquer (Rank 3 Salvage Compound) x16
Type 2: Armored vehicles
Diatium (Tier 4 Salvage Metal) x12
Bondite (Tier 4 Salvage Metal) x12
Neutronium (Tier 5 Salvage Metal) x12
Type 2: Ship weaponry
Resinite (Rank 4 Salvage Compound) x12
Fiber Mesh (Tier 4 Salvage Compound) x12
Polyplast (Tier 5 recovery compound) x12
Type 3: Armored vehicles
Electrum (Tier 5 Salvage Metal) x8
Duracier (Tier 6 Salvage Metal) x8
Mythra (Tier 9 Salvage Metal) x8
Type 3: Ship weaponry
Amorphous Carbonite (Tier 5 Salvage Compound) x8
Zal Alloy (Rank 6 Salvage Compound) x8
Turadium (Rank 9 Salvage Compound) x8
Type 1: Crystal capacitors
Nextor Crystal (Tier 2 Energy Crystal) x16
Eralam Crystal (Tier 2 Energy Crystal) x16
Bondar Crystal (Tier 3 Energy Crystal) x16
Type 1: Strategy Holocron
Lost Artifact Fragment (Rank 1 Artifact Fragment) x16
Sacred Artifact Fragment (Rank 2 Artifact Fragment) x16
Prehistoric Artifact Fragment (Rank 3 Artifact Fragment) x16
Type 2: Crystal capacitors
Opila Crystal (Tier 3 Energy Crystal) x12
Firkrann Crystal (Rank 4 Energy Crystal) x12
Phond Crystal (Rank 5 Energy Crystal)
Type 2: Strategy Holocron
Galactic Artifact Fragment (Rank 4 Artifact Fragment) x12
Hypertechno Artifact Fragment (Rank 5 Artifact Fragment) x12
Ancient Artifact Fragment (Rank 3 Artifact Fragment) x12
Type 3: Crystal capacitors
Damind Crystal (Rank 5 Energy Crystal) x8
Upari Crystal (Rank 6 Energy Crystal) x8
Carbonic Crystal (Rank 9 Energy Crystal) x8
Type 3: Strategy Holocron
Alien Artifact Fragment (Rank 5 Artifact Fragment) x8
Primal Artifact Fragment (Rank 6 Artifact Fragment) x8
Supreme Artifact Fragment (Rank 9 Artifact Fragment) x8
Type 1: Infantry Supply Kits
Toxic Extract (Tier 2 biochemical sample) x10
Microscopic Symbiote (Tier 2 Biochemical Sample) x10
Unknown microorganism (Tier 3 biochemical sample) x10
Bioenergetic cell sample (rank 3 biochemical sample)
ou
Genetic anomaly (2nd tier biochemical compound) x10
Blue Jelly (Tier 3 biochemical compound) x10
Medicinal Fluid (Tier 3 Biochemical Compound) x10
Hallucinogenic compound (rank 3 biochemical compound) x10
Type 2: Infantry Supply Kits
Neuroactive chemical substance (biochemical rank 4 sample) x8
Cosmic Particle (Tier 4 Biochemical Sample) x8
Psychoactive compound (biochemical sample of rank 5) x8
Nutrient Gel (Tier 5 biochemical sample) x8
ou
Alien bacteria (Tier 4 biochemical compound) x8
Inert virus (Tier 4 biochemical compound) x8
Parasitic Microorganism (Tier 5 Biochemical Compound) x8
Growth Agent (Tier 5 Biochemical Compound) x8
Type 3: Infantry Supply Kits
Red Jelly (Rank 6 Biochemical Sample) x6
Culture of immune cells (biochemical rank 6 sample) x6
Artificial Microbe (Rank 9 Biochemical Sample) x6
Viral residue (biochemical sample of rank 9) x6
ou
Mutagenic paste (rank 6 biochemical compound) x6
Neurochemical extract (biochemical compound of rank 6) x6
Metabolic Enhancement Agent (Tier 9 Biochemical Compound) x6
Chemical with biological compound (biochemical compound of rank 9) x6
Military Reserves: Invasion Force
All trades
Military Reserves: Infantry Supply Kits x1
Military reserves: armored vehicles x1
Military Reserves: Strategy Holocron x1
Military reserves: ship weaponry x1
Military Reserves: Crystal Capacitors x1
Dark Project type 1
All trades
Military reserves: invasion force
Allian Data Cube (Rank 7 Exotic Crafting Material) x6
Biometric Crystal Alloy (Rank 7 Exotic Crafting Material) x6
Rakata Energy Module (Rank 7 Exotic Crafting Material) x3
Synthetic Energy Matrix (Rank 8 Exotic Crafting Material) x3
And here is the diagram to see it a little more clearly, by Ktull: