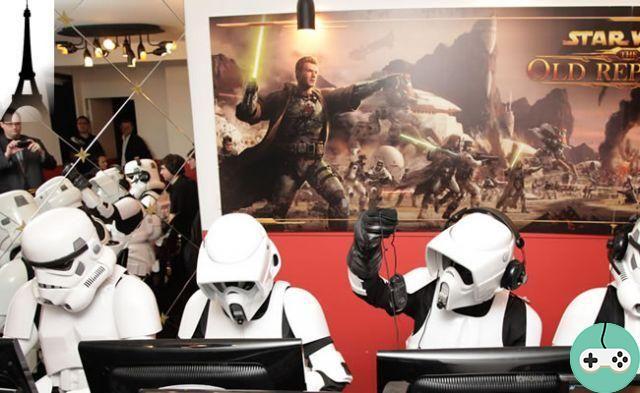 Just back from Paris, I wanted to tell you what happened today during the community event organized this afternoon in Paris.
Everything took place in the 6th district, a beautiful district of Paris, not far from Notre-Dame. We arrived 2 hours before, around noon. Next door, there was a nice cafe and there, oh surprise, we meet Fx chatting with someone from LucasArts. After having greeted our spanish Assistant Product Manager and ate a croque-madame, the wait begins. We are soon joining many members of the spanish community. Origin & Fury (and a hand from Revaane):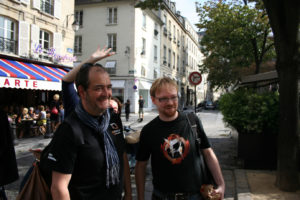 While we were sitting in a nearby park, a poster came out of a small white truck, a poster that we then find on the facade of the cinema. Ah, it's starting to get interesting: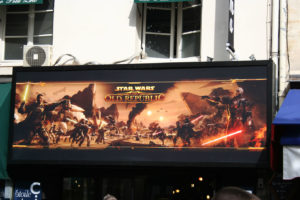 Several times, members of BioWare came out to admire this magnificent poster (it is true that it is beautiful!). According to the gestures, it would seem that it had to be cut (?) To adapt it.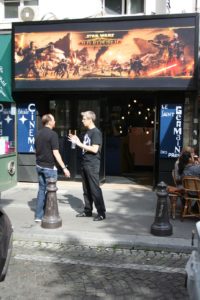 Many onlookers are intrigued by our event and there is even a group of grandmothers who say we are lucky! Quite late (almost 14pm) we finally come back. After a little fright (they had apparently not received confirmation of our arrival) we go back anyway. The atmosphere is preserved even in the corridors with many posters: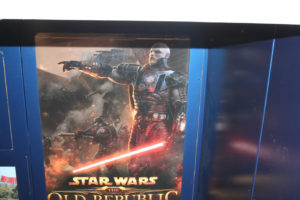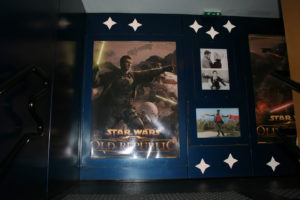 Once everything is well installed, Antonio Moreno, spanish Lead Community Manager welcomes us and launches the 3 cinematics on the big screen. This is really huge. Videos that look really good look great on the big screen. They had just pushed the sound a bit too loud. And, as Antonio points out, it's nice to have such an event in a movie theater, where the Star Wars saga began. Here are some pictures of the cutscenes at the end (too many in there to take more pictures).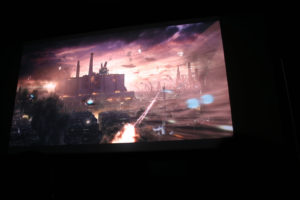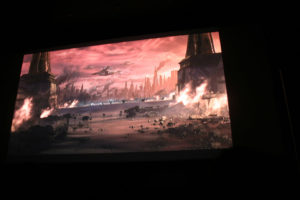 At the end of the cutscenes on the big screen comes Daniel Erickson, Lead Writer, escorted by 4 soldiers.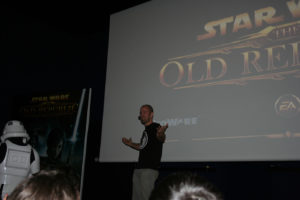 He welcomes us again, thanking us for our presence and there, magic, the screen rises to discover 16 computers! The latter, linked directly to the US, offer us to play the game, for the first time, in Spain. The game is still in English, too bad, no localized version as we hoped.
For my part, I had the opportunity to play the Operative ... this class interested me by its fufu Swiss Army knife side. However, I admit that I was a little disappointed with the gameplay which does not really suit me. He's nice, and he really knows how to do a lot of stuff. But I admit having been quite lost by the multitude of spells (it really did not hurt for a level 14 only). He can heal, get into position behind a shield, hide behind rocks! Finally, all this, you already know!
But I admit that I mostly spent my PVP session running around, trying to find my companions to try to cure them. As I did not know the map well (first time for the Huttball concerning me) I never knew where they were and I wandered quite a bit! I admit that once I was told that the ball carrier had a large purple pillar on his head, it was much better!
Anyway, it was really nice .. just that the computers were very, very hot! it was a big heat wave coming from under the table. Fortunately, nothing burned a priori.
Ah and we lost 4.0 miserably for the Republic. Shame !
When we weren't playing, we could chat with the folks from EA and BioWare present. Or drink the champagne and taste the petits fours (I contented myself with a classic orange juice;)). Poor Daniel Erickson was going through interviews, so I couldn't get too close to him. But we chatted with a lot of other people and I have some info that I will come back to tomorrow!
After the PVP session, it was possible to play the original worlds. I did not participate in this game session being in full discussion but there were 3 sessions of about 20 minutes.
Finally, the meeting ended with a distribution of black T-shirts! We didn't have those yet. Great !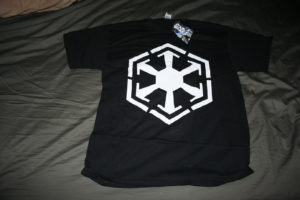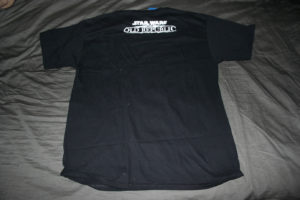 It was difficult to get us outside ... we were talking with FX in the passage, as a result, we hampered the exit and the distribution of T-shirts ... we found ourselves at the back of the room then gently pushed outward. It must be said that the teams followed up with a second presentation, this time to the press. Finally, we chatted a bit with Antonio outside .. then he had to go, take a few minutes of rest to go back!
It was really nice. Strenuous to do 350kms leaving at 08:30 am this morning to return at 21:XNUMX pm tonight ... but it was worth it. The game promises, the teams are very available and prove to us today that the spanish community is fully heard by BioWare and EA. Thank you to you for this beautiful day.
Gallery