The Republic launches an offensive on the planet of the Sith, where the academy is located. An attack that comes just as the Empire has decided to Assault Tython. Funny coincidence.
Presentation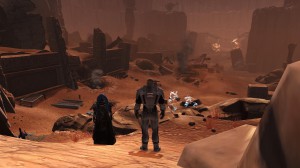 Appeared in update 2.7
Solo mode is available, reducing bosses' hit points and simplifying their mechanics.
This Flashpoint is doable by both factions, in a different context, but bosses, although their names differ, have the same abilities (with different names), regardless of which side you are on.
Three bosses await you:
Riilna / Renning
R-9XR / I5-T1
Jensyn / Soverus
Pathway
Watch out for certain groups of enemies:
Fort-type Imperial / Republican soldiers (they look like Vanguards). They are found on the first 2 packs of the ZL which are not "mandatory". Much more present on Assault on Tython, these enemies are hell for the Tank. They channel a firebomb that takes the form of a red AoE and melts you at high speed (10K per tick anyway). So immobilize them, stop their incantation, and avoid their area at all costs.
To Champion-type Guardians, these don't hurt very much but they have a lot of health. Also when you engage them, they spawn a large amount of strong or normal type reinforcements.
Riilna / Renning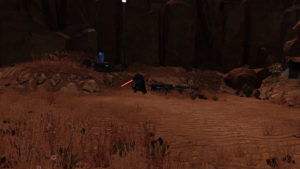 Solo Health Points : 140 544
Life Points History : 513 829
capacity :
Force Bolt: Channeled damage to a target
Force Storm: damage zone
Mind Crush: Consistent kinetic damage to a target
This boss requires precise tanking and high mobility. Indeed, a bad placement will result in the death of the tank in one hit!
To avoid taking risks, identify well before engaging in the fight the 3 glass cages that contain the boss's reinforcements. You should NEVER have one of these cages on your back when tanking. Indeed, these are electrified and regularly the boss will throw the one he targets. Let it be clear, there is no need to procrastinate, if you touch the cage it's one shot, even Lourdes water can do nothing for you!
You can pick up the boss melee with no problem, however be careful of the Force Storm that he channels regularly.
Finally, 3 times in the fight (less if you send wood), the boss stops attacking and aims at one of the glass cages with his lightning bolts. This has the effect of breaking it and releasing on the group two reinforcements of the strong type which go in contact with the closest one. Also when he channels, the ideal is to put you all in contact with the boss to facilitate their recovery by the tank as well as their sudden extinction of AoE.
R-9XR / I5-T1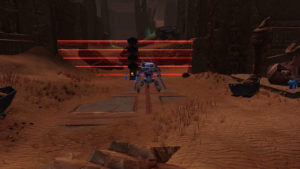 Solo Health Points : 183 488
Life Points History : 660 555
capacity :
Laser Burst: A laser launched at a random target
This big tin should not be too much of a problem in terms of tanking (you will rarely get aggro) or DPS, however the care can be complicated if your placement is not rigorous.
The fight takes place in 2 phases which are repeated successively.
Column phase
Mined land phase
Regularly the droid will target a party member at random (but never the one with aggro) and hit him with a beam. The boss is then unstoppable, so you can't escape it. Slam a defensive power and take your troubles patiently.
Mines are placed everywhere (orange zone) during the next phase, avoid entering them.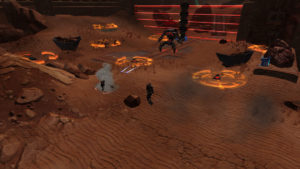 The boss surrounds himself with a shield which makes him invulnerable to all types of damage, he places a large red AoE under him which hurts a lot, and places small other red and yellow AoEs on each member of the group.
The reds do heavy damage immediately, the yellows place a mine that will remain in play until this phase returns.
The group must therefore position themselves around the boss and avoid all areas of damage. Here, as with all AoEs in the game, one step is enough, no need to run in all directions and crisscross the entire area.
Two little tips:

If you are a Shadow / Assassin Tank or Vanguard / Tank Specialist with the use that accelerates your immutability (the Guardian can also have it with Plumb), take advantage of this phase to cross all the mines you see. , your speed will keep you from taking damage and you will make way for others. It is necessary that it is the Tank which does it on the other hand because if you miss your blow and that you take the damage you risk being severely reprimanded by the Healer which you will have drawn from his sleep.

The area under the boss disappears before the boss stops dropping the little red and yellow AoEs, and he doesn't drop them near him. So as soon as the big red AoE disappears, put all of you under the boss, there will be fewer mines in play!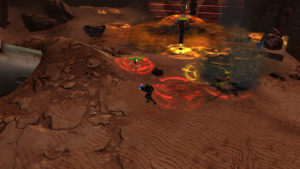 Jensyn / Soverus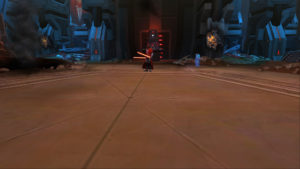 Solo Health Points : 175 680
Life Points History : 636 945
capacity :
Rampage: channeled attack on a target
Periodically, the boss will activate a "Saber Reflection", a shield that reflects damage back to the attacker. Shortly after, an Interrogation Droid will appear, and stun a random player. It is then advisable to concentrate on the droid to free the player. As soon as the boss no longer has his shield, you can attack him again.
At times, it will immobilize all players in the air, visit each of them and then activate an attack dealing some damage. Nothing too insurmountable, but it's best that the Healer makes sure everyone has enough health.