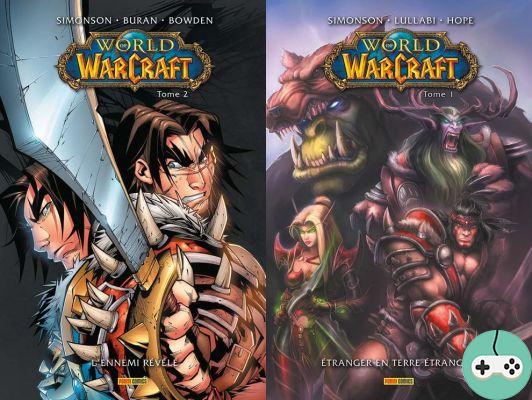 While I was running around on the server waiting for the release of Shadowlands, unfortunately postponed to November 24, I was surprised to receive two books at home, volumes 1 and 2 of the reissue of a comic strip. World of Warcraft originally released from 2007 to 2009 and published by Panini Comics: Stranger in a Foreign Land (episodes 0 to 7) and The Enemy revealed (episodes 8 to 14).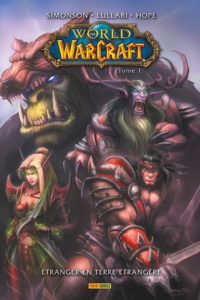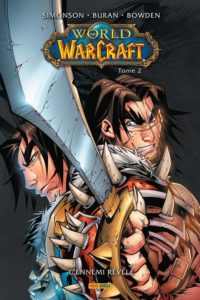 T1 - Foreigner in a foreign land
T2 - The Enemy Revealed
When an amnesiac awakens on the shores of Kalimdor, it is the beginning of the epic quest for warrior Lo'Gosh and his unlikely allies, Broll Mantelours and Valeera Sanguinar. Together, they will form complicated relationships with other races, and even within their group. They will also have to face the Alliance as well as the Horde to uncover the secrets of Lo'Gosh's past.
Screenplay: Walter Simonson
Drawing: Ludo Lullabi
Inker: Sandra Hope, Richard Friend and Philip Moy
Colors: Randy Mayor and Carrie Strachan
FR translation: Thomas Davier
Lettering FR: Christophe Semal
Warrior Lo'Gosh shares the face and memories of Varian Wrynn, King of Stormwind. However, only one man can wear the crown. With the help of his friends Broll and Valeera, as well as new allies like Thargas Anvil Grind, Lo'Gosh is determined to reclaim power from his impostor. But is Varian really his enemy?
Screenplay: Walter Simonson
Dessin: Jon Buram and Mike Bowden
Encrage : Jerome Moore, Sandra Hope, Mike Bowden, Richard Friend, Mark Irwin, Philip Moy, Trevor Scott, Andy Smith, Lee Townsend, Joe Weems et Jeff Whiting
Colors: Randy Mayor, Milen Parvanov and Allen Passalaqua
FR translation: Thomas Davier
Lettering FR: Christophe Semal
Among these names, if you are fans of the genre, you will have noticed a few famous people, including Walter Simonson (Thor), Ludo Lullabi (Lanfeust Quest), Sandra Hope (Justice League of America), Jon Buran (Free Realms) and Mike Bowden (Marvel's Hero Project).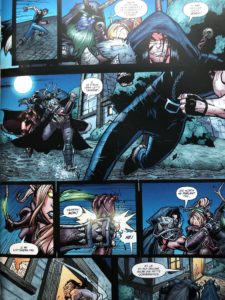 Graphically, it's a treat. The pencil stroke is rapid, incisive. The characters are there, passionate, energetic, always tense in extreme positions, almost never static but in movement, in the process of becoming, in displacement. What produces an incredible power and vibrato in the expression of the faces, the maintenance of the bodies, the positioning of the never inert hands, the always active arms! All this gives an intense life to this abundance of bodies, even when they are secondary characters. The crowd itself, you can feel it there, on the lookout, certainly behind the main characters, but in a palpable and dense background.
The dialogues get to the point, to get to know these characters well known to video game players because many have since been introduced in Azeroth, which millions of players travel through daily. Before "saying", there is "showing", "seeing". Ultimately we don't need to know that the orca wants to beat the hell out of the troublemaker, the threat is present in the visual and the word becomes almost redundant, or even useless in some places.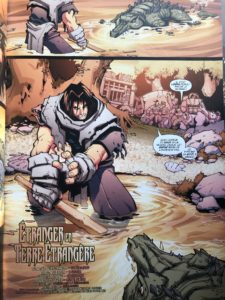 So we are dealing with small paintings and the masterful way in which the colors are arranged reinforces this impression. Each sticker is a work of art in its own right, especially since, very often, only one color per sticker is applied. And the choice of colors is eloquent: pale greens, washed out, of an almost transparent emerald, dazzling oranges, powerful reds, solar yellows. All arranged with insight, a bit like a stained glass window, in full page or in bursting of six to eight sections, just separated by a thin black border.
Perhaps I was less captivated by the sets. Having paid more attention to the characters. But that's also ultimately the goal of these books: to offer a past to WoW NPCs!
Finally, we must underline the quality of the printing on a rather thick glossy support. Here too we still gain in the aspect "work of art" of this publication. Perhaps a regret: the format. Indeed, this format seems a bit small to me, I would have preferred to have something larger. Especially since the border that separates the thumbnails being very narrow, the dense appearance can sometimes seem a little confused. But that's a tiny minus compared to the whole ...
All simply magnificent ! I repeat myself ! You will find each of the 20 € tomes on the official Panini Spain website, but also at your favorite bookseller:
World of Warcraft 1 - 20€
World of Warcraft 2 - 20€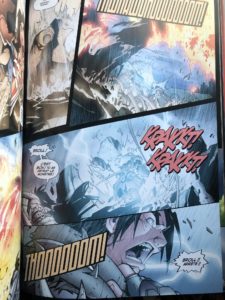 The interior images were photographed and are intended only to give you an idea. But they are not representative of the quality of the product. All rights reserved Panini Spain.