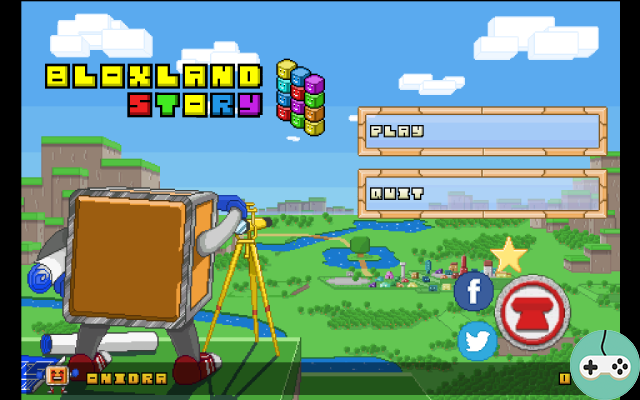 I was recently able to access the beta of Bloxland Story, in its version on Android, an action / puzzle game in pixel art mode developed by two passionate developers (David Martins, @co_Opernicus, and Pablo Beltran, @spekdrum) from small Spanish studio Talaiot Studio.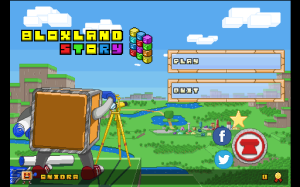 When you launch the game for the first time, after creating your profile, you really have no choice but to start a game. 3 game modes exist. Time Attack mode is not yet available while Survival mode requires 50 medals. So let's start with the Story mode.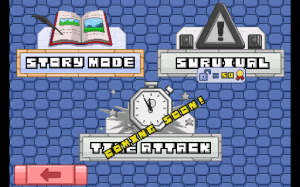 A short tutorial explains the basics of the game in the first tables.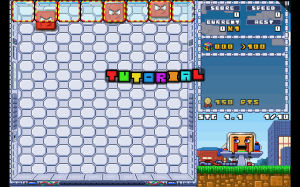 The main mechanism of Bloxland Story is reminiscent of Tetris, but if we quickly realize that this is not really the case. The principle is to match at least 3 blocks (or blox) of the same color (therefore only one minimum per line) in order to increase the block counter and the final score. In all, 7 colors are available.

The game needs to be fast, you have to chain groups to fill a kind of gauge (we see it completely empty in the screenshot below). If we manage to fill it, it triggers a chain reaction (mega-chain) which removes all the blocks from the screen, rewarding a good number of points.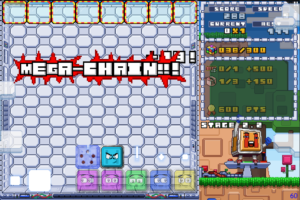 Different blocks come to help us during the game. To activate them, you have to press them 5 times very quickly. The black block allows you to speed up the game by quickly removing colored blocks, the first special blue block will allow you to remove all nearby blocks, then a whole line and finally the last special blue block to remove a random color:


Other blocks on the other hand will annoy us ... The first (chain) will only disappear if 5 chains are made while the second (stone) will require a mega-chain, just that!


During the game, new blocks continually arrive from the top of the screen but if you get bored you can simply ask for more by sliding your finger on the top.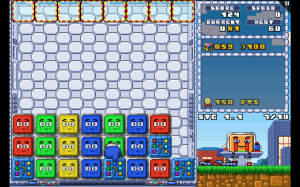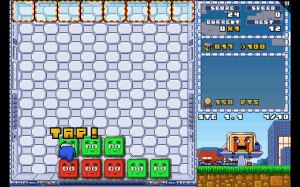 The game ends when the main objective of the table is accomplished or if a column is full when a new block arrives (Game Over!). I also had a level where it was all about time (remove 200 blocks in 3 minutes). Of course, if the goal is not reached, it's lost! At the end of a game, a scoreboard summarizes our prowess (or not).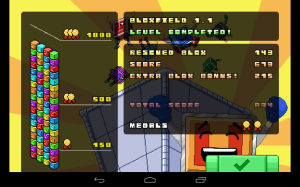 The story mode takes the form of a green world of 5 zones, presenting a total of 40 levels. I have not been to explore all these areas, but according to the information in my possession, each one adds a challenge:
zone 2: clouds (they pass gently in front of the screen preventing you from tapping on the blocks below).
zone 3: mystical zones (stones to align to unlock the screen and allow mega-chains to be made).
zone 4: blizzards (the blocks are frozen and require 3 pressures to be used, without forgetting the reduced visibility).
zone 5: volcanic eruptions (the screen moves, making it difficult to select blocks, and many stones fall).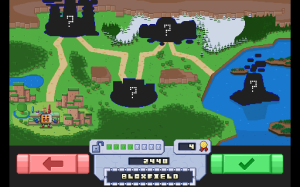 You win from zero to three medals. It is therefore necessary to complete a certain number of levels to unlock the Survival mode which is offered in two types: Classic (without events) and Hardcore (with events). The scores obtained in survival mode as well as in story mode after 8 completed levels are displayed in the leaderboard.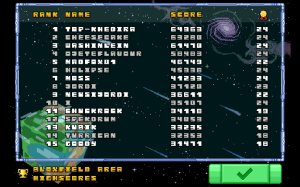 In conclusion, a little video:
The game is available in different versions:
Android: full version (1.55 €) / demo version
Windows Phone: full version (2.49 €) / demo version
It will very soon be made available on iOS (currently being validated) but also on PC, Mac and Linux (even if there is no release date on these media yet).