The important points
Play for free until October 31 by following this link
The Evocatis are currently testing the flight modifications.

Summary
With CitizenCon over, they are currently fully focused on 2.6, 3.0 and Squadron 42.
The RSI Polaris is a corvette, it replaces the Idris which for its part becomes a Frigate. It has been designed in the style of the RSI brand and is intended to deliver quick attacks. It has a hangar that can accommodate a hunter and is equipped with torpedo launchers that can launch 4 torpedoes simultaneously. Its cockpit is like the Aurora and the Constellation: it offers a great vision.
New cameras will appear from patch 2.6. They are impressed by the content provided by the community and want to offer them suitable tools. These new cameras will be adjustable and will offer much more interesting cinematographic shots than today.
The Ursa has changed a lot between the first version and the last one presented at CitizenCon. It can accommodate 2 people in the front and 4 people or storage units in the rear. It has a defensive turret on the top. As with ships, this vehicle is realistically subjected to physics, from managing the center of mass to changing behavior depending on the ground.
The CitizenCon demo introduced us to a crushed Javelin acting as a pirate base. It was a challenge to fit a shipwreck into the background, and to come up with the end result, they notably studied photos of beached ships. Many developers wanted to help out with this project because it changed them from building new ships.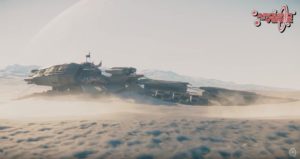 We also see that sound plays an important part in the realization of procedural planets. There is thus a bank of sounds per object depending on the biome which can be played with very specific effects depending on the events. It makes the atmosphere very immersive.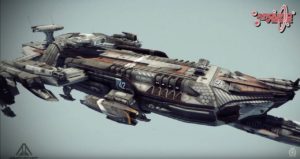 They're designing a lot of ships on the Squadron 42 side that will also be available in the Persistent Universe. They estimate that with base ships from some brands, designing new ships takes 40% less time, much of it being made unique from the rest of the lineup. They wish that in addition to damage and customization, ships get dirty if not maintained by their owners. They already have a prototype of this system.
Around The Verse
Reverse The Verse