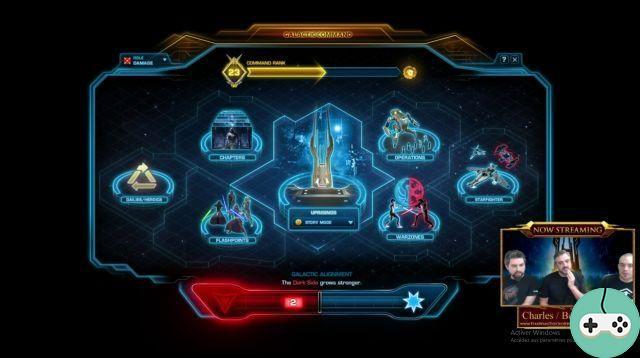 That's it, the first presentation livestream of the next KotET expansion is over! Here is the full summary of the events that took place in this live focused on the new Galactic Command system. For this direct, Eric Musco was accompanied by Ben Irving, the producer and Charles Boyd, the creative director!
This first live focused on the new galactic command system, a second live will also take place this Thursday to address other aspects of this novelty. You will find at the end of the articles the schedule of the direct and their subject. The blog about the galactic command is also available following this direct.
Small warning also, several screenshots or concept-art were shown during this program, which does not mean that at the exit the elements of the game will be identical, whether it is the names or the detailed design.
Summary :
Dark vs Light event
Subscriber rewards
General information about KotET
Galactic Command
Command Rank
Command Crates
Planning of blogs and direct
For group content other than the new Uprisings, the news will come mainly after the launch of KotET, that is, during the January livestream. Nevertheless, it would be a question of at least one potentially playable content at eight.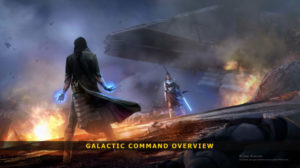 Dark vs Light event
It will end on November 29 at the same time as the launch of KotET.
Companion selection will end on November 15, for now the Light Side dominates the Galaxy, but it's not too late to change that if you think the Dark Side should prevail.
The experience is doubled until November 29!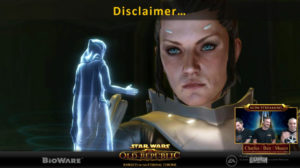 Subscriber rewards
Shae Vizla as a companion for subscribers before October 25.
Rapid Recognition Walker for subscribers before November 27th.
Early Access: Be a subscriber from October 25 through November 27. Early access is on November 29.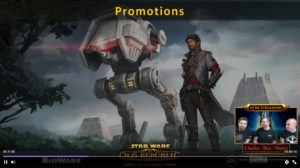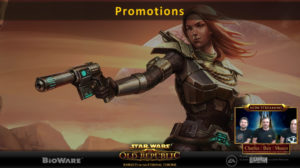 General information about KotET
Available to all subscribers from December 2, or November 29 for early access.
Five new levels.
Token to start at level 60 or 65, either at the start of KotFE or KotET.
New class skills: a live will be devoted to this on November 3. One or two new abilities per class, and new utilities.
Two new planets:

More details on these will come later. Direct dedicated on November 17.
One is totally new to the Star Wars universe and would allow us to answer secrets or mysteries slipped into the last chapters of KotFE.
The other is already present in the Star Wars universe but not in SWTOR. It seems that his name has already been heard in-game ... depending on the classes played or the novels read. It may even have been seen recently without realizing it. A priori, it is a planet resulting from something in which Charles Boyd participated. Hmm ... Come on, the bets are off, Nathema seems to me to be a good candidate, and you?

Uprisings: New group content for rhythmic Star Wars-style fight scenes. Direct dedicated on October 27.
Galactic Command: new content detailed below.
Repeatability of the chapters of KotFE and KotET, with several levels of difficulty. Three levels:

The first two are accessible during character level progression.
The last, hardest mode is only available after you reach maximum character level.
Direct dedicated on November 10.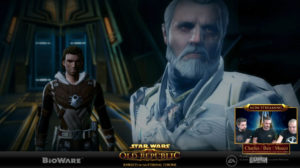 Galactic Command
Why develop this:

Last year: if you were a new player, it was not easy to know what to do after the chapters, not easy to know where to go in operations or in war zones, not easy either to know which end-game content exists.
At the same time, no progression at the end of the game was offered to veterans, no real new challenge.

These two things led to the idea of ​​galactic command: by gaining levels of command, one can influence the Galaxy more and tip the scales, in addition to becoming stronger.
It is a system only accessible at level 70 and for subscribers.
Allows making already existing solo, or group and upcoming content to earn rewards. At the moment these contents are: Chapters, Daily and Heroic Quests, Flashpoints, War Zones, Operations, Galactic Hunter and Uprisings.
Going on solo content launches it directly while for group content we end up in the queue.
For the content for which it is relevant, we can directly choose the level.
Command rank system and command boxes (see following paragraphs).
There is a system of global balance of the Galaxy, dark side or light side, like the current event, and by realizing elements of galactic command we can tilt that. We also see the progression of the galactic balance live. A live will be dedicated to it this Thursday, October 20.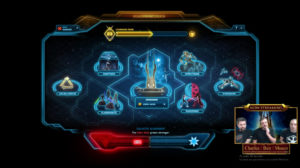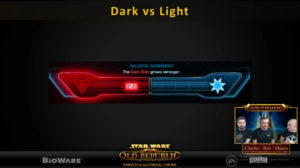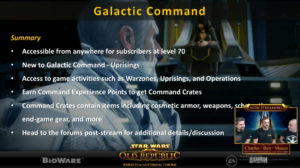 Command Rank
Represents overall progress in the Galactic Command.
Any in-game activity earns us Command Rank points.
Gaining a level allows you to obtain rewards (Command Crates).
Depending on the day (or the week?) We get bonuses depending on the type of content played! This allows people to participate in each of the content. Example: Operations give double command points one day, then the next day it is the Galactic Hunter games.
The command experience granted by an activity is proportional to the time spent and the difficulty.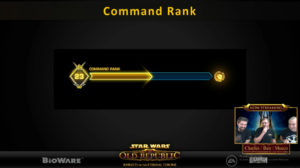 Command Crates
We earn them by gaining levels of command.
Contains powerful equipment, the higher the level of command, the more powerful the equipment. The goal is to allow players to show their investment in the game to others in this way.
Crates can also contain building materials, blueprints, cosmetic armor, and more.
We have the possibility of disintegrating an object gained by the command. This destroys the item that is not useful to you, and gives more command points to progress faster.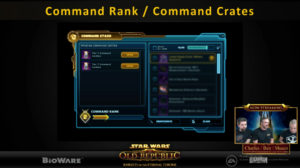 Planning of blogs and direct
The next live will take place this Thursday, October 20 and will also be devoted to the galactic command, the dark against light part more precisely.
October 27: Uprisings.
November 03: Class and combat changes.
November 10: Repeatability and difficulty levels of the chapters.
November 17: New planets and conception of history with Charles Boyd.
November 24 (the week before KotET's anticipated launch): Summary and Q&A.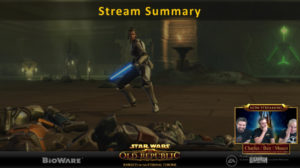 Quickly at the end, they raised the question of a merger of servers or links between them. They see quite a few people coming back to the game as a result of the announcements, so no merger at this time. They are waiting for the expansion to launch and will see afterwards. For KotFE, if they had done it before, at launch there would have been too many people per server and queues to be able to play.
In several messages following the live and posted on the devtracker, Eric provided some additional information regarding the impact on PvE and PvP of certain announcements:
Expertise will be removed from the game.
Colored crystals containing Expertise will be converted into a new crystal type: Mastery. This includes Crystals unlocked in Collections.
It is no longer necessary to have a given index of expertise to enter a classified war zone. This is changed for a clue of bravery.
PvP and PvE will share the same gear in KotET.
Crystals and Warzone Distinctions will also be removed from the game at the time of KotET. More information will come soon on expected conversion rates.
Boss locks will still be present. They will no longer give out equipment other than cosmetics, and will give command experience.
There is a maximum level for the rank of command, not yet fixed.
Once this maximum is reached, we continue to gain experience and move on. No additional ranks but each time this cap is reached we gain a new crate.
Equipment of a level equivalent to that of the Command Crates can be crafted by players, but without set bonuses.
The sellers of planetary distinctions will no longer sell anything for distinctions but for credits. No more equipment will be available for distinctions. Equipment will continue to come from normal sources before level 70 (bosses, mission rewards, ...)
Finally, they said lots of little extra things are coming. With a little taste: it will be possible to fight in vehicles, at least in Walker according to the mini video extract. Maybe we could even crush our enemies with it? This is what a quote from Charles Boyd suggests. It remains to be seen if this is not a feature present only during a specific chapter of the next expansion.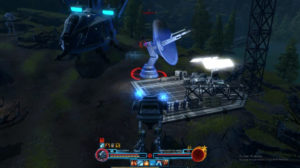 To see the replay of the live, it's here.
So what do you think of these announcements? Happy ? Unhappy?