Before 1.2, hacking was used almost exclusively to raise funds, missions aiming to report improvements were used very little and the results were too improbable, as was the resale which was at least non-existent because their usefulness was minimal, and well that's all over, in 1.2 the piracy and its usefulness (except collecting credits) are changed.
BEFORE 1.2
Before the famous patch that awaits us, you could send your partners on a Hacking mission to recover improvements, the result was unforeseen as was the quality of the item, we rarely found what we wanted and most of the time that ended up reselling to the NPC more than anything else.

From the 1.2
From 1.2, the missions aiming to bring back improvements will no longer exist, they will be replaced by missions aiming to bring you "Pirated Technologies"
These pirated technologies are more or less like other mission skills, blue or artifact quality components that will be used to develop Improvements that will be implemented in three crew skills:

Thanks to these missions you will be able to recover:
blue quality pirated technologies
artifact-grade pirated technologies
Improvement crafting patterns (for armor crafting, weapon crafting, and Synthweaving)
Please note that improvement patterns can only be obtained through Hacking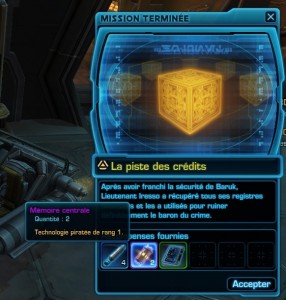 Each crew skill will have its different types of enhancements:
Weapons manufacturing
Armor crafting
Synthweaving
Influx
Critical
Endurance
Precision
Engime
Absorption
Trick
Bouclier
Aiming
Alacrity
Defense
Presence
Vigor
Will
Which is very good news for Hacking, a skill that tended to be forgotten since its big nerve suffered in 1.1, from 1.2 it will come back forward and be a very profitable skill again. It will provide all of the raw materials needed to craft high-level increases and the number of players who will have the courage to pick up a skill early on will not be that much, so you better have your fill up already. discoveries of missions and increase affection to the maximum with your partner who has a pirating bonus to make you full of piss in 1.2?
Example!
For the sake of this article I took the hacking skill on my PTR character (which was already synthweaving too, good news!)
From my first mission I was very lucky and, as you saw in the image above, looted blue pirated technologies & artefacts + a Synthweaving sewing pattern.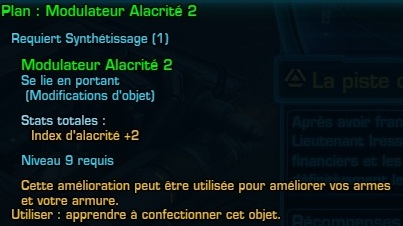 As with all tailoring trades, Modulators are reverse engineering, with some retro 'I was able to reach the artifact version, it will be your goal from 1.2 as a budding pirate, catch the best plans related to your skill. crew (probably 22) and get the artifact version. I couldn't tell you if I was lucky again or not but it took me 4 retro 'of green to get the blue version and 2 retro' of blue to get the artifact version (I am synthweaving 400 too. it was probably playing)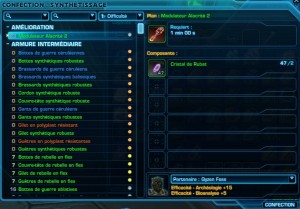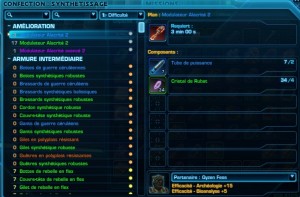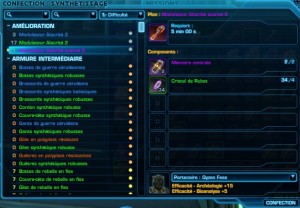 Note that for the manufacturing you will need the components related to your basic skill + pirated technologies (only for the blue & artefact versions, the green ones will only require skill components)
Conclusion
After a small oversight during 1.1 due to its nerf, this skill will come back to the fore and become a perfect mix of pickup / mission skill, which will not only allow you to amass lots of credits naturally but also become a source for three manufacturing skills, just that! What to give desire for change to several people. If you want to start a new character and are looking for which skill to choose I can only advise you to go for the hacking + an associated crafting skill which will also preferably help you + the harvesting skill linked to the crafting skill, the money obtained through hacking will undoubtedly allow you to dispense with the mission skill associated with the crafting skill you have chosen.
For my part I find it is a very positive change, being one of the players who had kept a 400 hacking character "in case" I am satisfied with these changes! In a patch that promises to swear only by modifiable equipment and critical crafts of all kinds, there is a lot of money to be had if you put the shapes into it, and that's all you expect when choosing piracy ! I hope I convinced you ?