Thanks to the Lancea guild, we offer you the translation of skills for The Division! Thanks to Agone for sharing.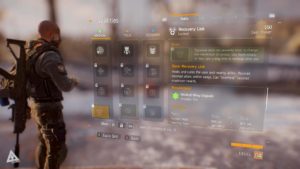 Each branch has three basic skills and one signature skill. And each character has two basic skills (which can be improved with modifications) and a signature skill (which cannot be changed once chosen). Knowing that only one modification can be active on each skill and that an additional passive skill will be offered if all the modifications are unlocked.
Medical
Pulsation
First aid
Support station (dispensary)
Sends a pulse / echo through walls to locate allies and enemies.
Modifications :
Increase range and highlight loot boxes.
Protects you and your team from the Pulses of others.
Increases damage (and critical chance?) Against enemies identified by a pulse.
Master:
Pulsation alerts you to hostiles and lets you know you've been detected.
Heals allies within a short radius. Used on oneself or thrown on a target.
Modifications :
Revive an ally on the ground and restore some health.
Heals targets more effectively, the device can even increase their hit points beyond the maximum.
Temporarily increases the damage done by the target in addition to healing it.
Master:
Increases the duration of the healing zones (when you heal, it is a zone that appears)
Sets up a support station that heals all allies in a circle around her.
Modifications :
Bring the allies in the circle back to life
Removes status ailments from those standing in the circle.
Returns ammo to allies in the circle, and speeds up the recharge of their skills.
Master:
Additional healing is performed on all allies when the device is extinguished.
Signature skill
Recovery link - Heals and removes status ailments from nearby allies and revives those down. Can heal beyond maximum health points.
Technician
Glue bombs
Turret
Homing mine
Attaches to most surfaces and detonates on command.
Modifications :
Increases explosion radius and chance to inflict bleed.
Remove the explosion but become blinding.
Becomes a proximity mine that explodes when enemies are nearby.
Master:
The bomb gives off less light and noise to make it less easily detectable.
Deploys a stationary turret that attacks nearby enemies until destroyed or batteries run out (can be cast in place)
Modifications :
Increases damage and adds an echo / pulse effect on attacked enemies.
Becomes a flamethrower.
Becomes a multi-target taser.
Master:
The turret self-destructs by exploding if it is manually deactivated.
Lay an automated mine that meets enemy targets and explodes nearby (can be launched)
Modifications :
Becomes a bouncing cluster mine.
Bounces and releases a cloud of gas.
Divides into multiple small mines that seek multiple targets.
Master:
Can bounce over or off an obstacle or cover to directly hit the target.
Signature skill
Tactical Link - Increases damage and critical strike chance for user and nearby allies.
Safe
Riot shield
Smart blanket
Mobile coverage
Equip a portable ballistic shield that absorbs damage (only secondary weapon can be used while shield is active)
Modifications :
Strengthens and lightens the shield and places an echo / pulse effect on targets that shoot at it.
Strengthens the shield and increases damage, impact force, accuracy and increases reload speed of secondary weapon.
Converts a small portion of damage absorbed by the shield to healing.
Master:
The shield repairs itself after a short period without taking damage.
Reduces damage received and increases damage done by people in cover (this is a cover improvement that appears in the buff bar)
Modifications :
Enemies that use this cover take more damage and do less damage when taking cover.
Slowly recovers health points and speeds up skill recharge.
Immune allies to echo / pulse effects. Enemies take these effects when shot at them from cover.
Master:
The effects of the blanket persist for a few seconds after leaving the blanket.
Creates a temporary blanket that provides standard blanket coverage for one person until destroyed (can be cast)
Modifications :
Extends coverage for use by more than one person.
The filled with explosive to damage the people who do it (claymore way?)
Increases damage done while behind and immunizes to pulses / echoes
Master:
When the shield is destroyed, allies receive a temporary damage resistance buff.
Signature skill
Survivor Link - Increases damage resistance and speed of the caster and nearby allies.
Which path will you choose?