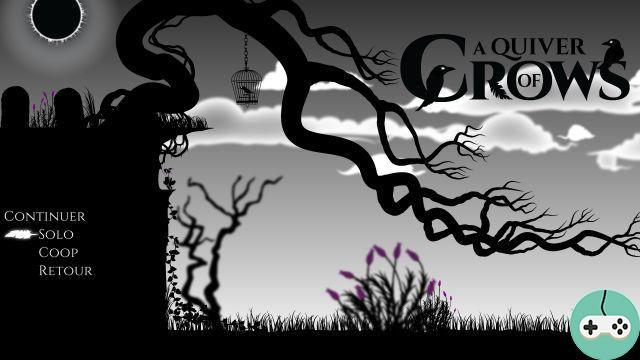 Last week the editor-in-chief, Onidra, said to me like this as she passed in the hallway (virtual of course): "Well, you wouldn't want to try A Quiver of Crows, it's not really my style but it has to be. look nice .... ". Naive as I am I believed it (and I will not be taken back) and I went on an adventure with my crow for hours of pure madness.
First glimpse
And then at first glance a Shoot'em Up with a crow in a rather horrific stylized world à la Tim Burton playable in cooperation (so with my 8 year old son) that has everything to please me. In addition, in Game of Thrones, the crows are the heroes of the story so the identification goes full blast. There is even an ecological aspect and the defense of animals against the forces of evil. The objective is indeed to free other crows and then to reach the end of the level, as in Sonic. So far all is well, but it was without counting on the deceit of Onidra who had failed to tell me that this game hid a heavy and demonic secret.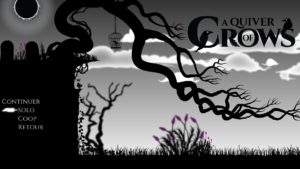 Un peu the Gameplay
The gameplay is very simple for a seasoned player but may seem a bit complicated for a novice. A Quiver of Crows is a shooting game where the player controls a raven (or several crows if you are playing in multiplayer) which, by a miracle of destiny, obtains magical powers. In addition to his ability to fly in a world in 360 ° with super agile movements and super maneuverability (yes it's much stronger than a spaceship a raven), he has a base power and a special power that can be exchanged at any time with another depending on the enemies encountered.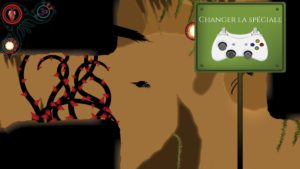 The basic power can be used without limit, even blocked in automatic mode or off. The different powers that I encountered were in line with the classics of the genre with missiles that go off in all directions or more focused lasers (when I told you it was a super raven). Power change is immediate and these can become more powerful by picking up "power orbs". Small flat however, each time you are hit, you lose an orb of power that can be recovered again only by killing new enemies. But hey, it is enough to always avoid the enemies to quickly have a super power.
The special power is of course much more powerful, can destroy enemies in an area concentrated around the raven for one of them, or go in automatic mode hitting the whole area with devastating raven feathers for another . The special power recharges with another type of orb and therefore has a limited use in time and must be used wisely. It will surely save you on multiple occasions.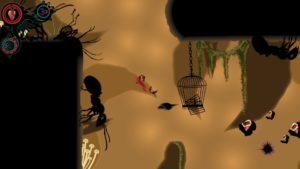 And this is where it gets complicated, because despite your immense powers, the game seemed very (very) difficult and not very permissive. We started in cooperative mode with my son who very quickly gave up by dying. So I tried to continue on my own to try to see the maximum without getting better results. So, indeed, for once it is an old-fashioned shooter which pushes the player-raven to test different weapons, optimized paths to free all his friends by awakening a minimum of abominations and ghouls. Whatever we say, the world of electronic games has evolved and the general public wants Blizzard-style games, that is to say easy to learn but difficult to fully master. And there, no progression curve, from the first level it's hot and very quickly the new enemies are much worse.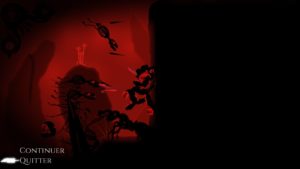 These creatures, in addition to being numerous, are vicious, they avoid our shots, put themselves in front of us when they die. In addition, they reappear in a loop thanks to indestructible evil portals scattered throughout the level. It's simple, it never stops and even when you think you have a lull, a vicious little beast that has escaped you can nab you and, in seconds, take all of your life points. And potions that allow you to regain a little are very rare ... I died in a loop and the dark atmosphere of the game quickly left me a feeling of confinement not necessarily pleasant. So that's where I decided to take stock of this game.
My opinion
very difficult
not enough game modes offered
a little creepy universe that will not please everyone
but he is brilliantly nightmarish so successful
enjoyable to play
to be reserved for an informed public who will love
A Quiver of Crows is really a difficult game to judge. Its universe and its gameplay were really an excellent surprise, the handling is fast and we quickly get into the game, trying to avoid enemies with panache to better shoot them. And then, very quickly, the game becomes very complicated and there you have to have a grip and a patience that I no longer have but which in my opinion will appeal to yououtubers of the extreme but also and especially to those who try on many games to break all records, to finish them faster and faster and this is surely the intended audience for developers. If like me, you are relatively casual with limited playtime, go your way and return to Civilization VI. If on the contrary you are part of this category of fierce players, go for it.