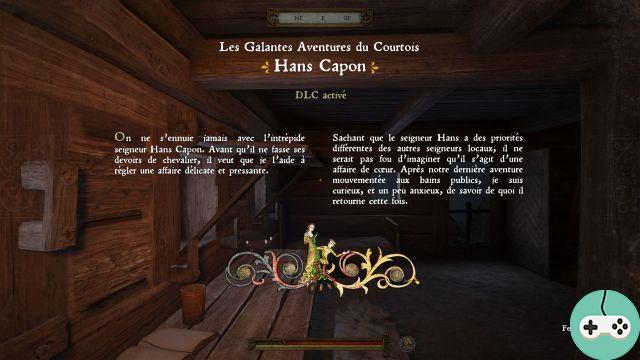 On October 16, Kingdom Come: Deliverance, the role-playing game from Warhorse Studios published by Deep Silver, has a set of new content, with a paid DLC that offers a series of quests in the company of the crisp Lord Hans Capon , but also free items in the form of various upgrades and a regular tournament at the Rattay arena held in the upper castle.
Les Galantes Adventures by Courtois Hans Capon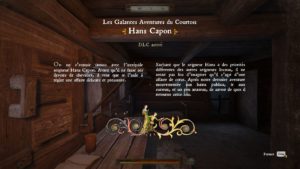 This quest begins by visiting Hans, no matter where he is, it will depend on your personal progress. Having finished the main story, I had to find him in his camp in the woods to the northeast, even if no marker indicated his presence on the scene. Hans puts aside the war and the conflicts which animate our characters since the beginning of the scenario to ... conquer the heart of a woman. He covets pretty Caroline and needs help, as always!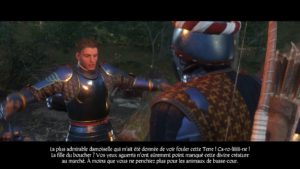 The first step is to find a necklace lost by Lord Capon at the dice game. But what should have been limited to a simple visit to a player at the local inn to recover the lost stake turns into an investigation in the woods on the trail of the body of a slain nobleman who leads to a brigand camp where dice tournaments are organized.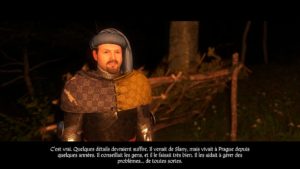 I managed to win without difficulty, it must be said that I have a nice collection of loaded dice and, even if I was called a cheater (it was true, so what?) Then a coward (for having refused a duel against my disgruntled opponent), I won all four of my matches and won the key to a chest containing the necklace and other trinkets. There are other ways to retrieve this necklace, in particular I spotted a tunnel to enter the camp ... but I am not one of those kind of men to fade into the shadows!
My task accomplished, so I proudly brought this necklace back to my friend Hans ... who gave me new tasks to accomplish. But I won't tell you all the details ...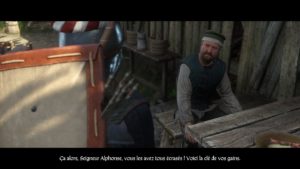 A launch bug prevented most players from completing the quest, causing them to complete the content in under two hours. Make no mistake reading the feedback on Steam, there is actually more content and now that patch 1.7.1 has fixed the problem, count at least double, also depending on your progress in the game ( if you have finished like me, you will have an easier time at all levels, especially in convincing others or playing dice than if you are just starting out and have an inexperienced character), this quest can be carried out right after the drunken evening in company Hans in the public baths.
Tournament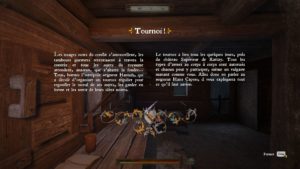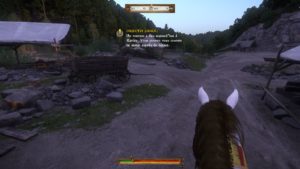 Every seven days, a tournament takes place at the Upper Rattay Castle, which triggers a quest to speak to the Herald. Once there, registration is valid for 60 groshens, the herald also gives information on the rules. Concretely, all weapons are authorized for combat in three rounds. So, I found myself fighting with a hammer, despite having no specific martial skills for this barbarian weapon, preferring from the start the noble sword of the knight.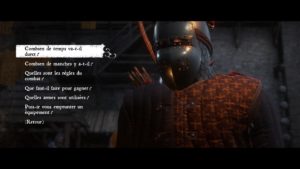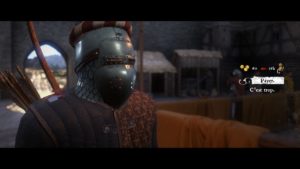 The opponents are of various levels but, if you played a long time ago and just pick up for this DLC, you will probably have to retrain yourself a bit because the reflexes quickly dull (which earned me a crushing defeat on the first tournament, fortunately quickly caught up thereafter).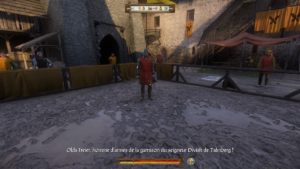 Repeatable content, this part will occupy you for a while in addition to your other activities on the game, knowing that it is quite possible to speed up the time by staying nearby to chain tournaments.
Notable improvements
The list of fixes made is as long as an arm, so I will not go into everything in detail, you can just like me find the full text on the official site (Patch 1.7 and Patch 1.7.1). Among the notable changes, I notably noticed that several repeatable quests that had become inaccessible to me due to my progress in the main quest have been unlocked. I was able to investigate the presence of evil poachers as well as decide whether or not I was helping my old friends to attack the quarry.
In addition, the dice game gets additional rules, with a joker system and new winning combinations.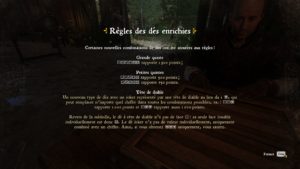 Conclusion
Sold for € 10, this DLC adds content that all fans of the atypical duo formed by Henry and Hans will want to own, with funny dialogues and incredible situations. But with a rather limited lifespan and content that looks a bit too much like all of the many side quests already included in the base game, this DLC feels like it's ultimately just one of many quests. 'others, resulting in a mixed feeling, for a DLC that seems much less original and successful than the previous one, From The Ashes, which I strongly recommend to you.