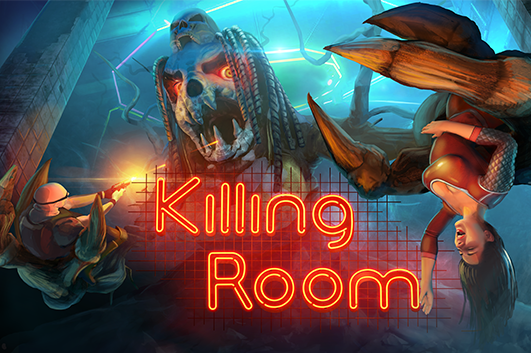 Today we present to you Killing Room, un rogue-like in first person view developed by independent studio Alda Games. Following the rules of the style, it features randomly generated levels with boss fights featuring unique and epic intro cutscenes. You will have to fight many different enemies as well as solve puzzles to survive.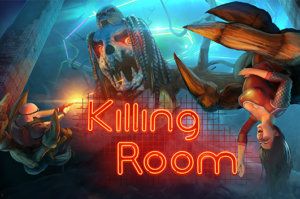 gameplay
As I said in the introduction, Killing Room is a worthy Rogue like but all in the first person. It is a rather original concept because most of them are either in the third person or in side view.
To start, you have a simple pistol with a magazine of 7 balls. Note that it is possible to increase the number of bullets per magazine thanks to the improvements purchased between two levels. In this menu, you are also available to buy life, armor or increase other statistics such as accuracy, critical hits ...
Let's come back to our gun, because it's a weapon that you are likely to use a lot! Despite the few bullets in the magazine, you have unlimited ammo, so it's still a reliable weapon for early levels.
The game is presented in the form of rooms which are generated randomly. To be able to leave the room, you will have to kill all the enemies and then choose your next room by taking one of the doors. Some rooms are optional and may or may not be beneficial. For example, you can find a merchant or a rare item in one of these rooms. But can you also find death?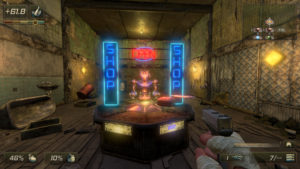 Not all rooms are filled with monsters to kill. On the image below, the game provides me with boxes and shows the exit. It's up to me to reinvent myself as a civil engineer to create a path to the door ... or make a pile of wobbly boxes! As long as it works once, it's good, no need to be reusable!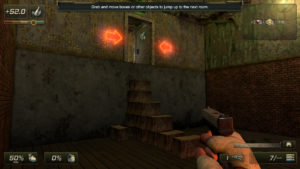 You've probably noticed if you look at the images: there is a bar with a colored graduation and a thumb above it. This corresponds to a kind of style bar assigned by your "audience". The more you do simultaneous eliminations or other more complicated things, you will receive bonus points in this gauge. But if you ever play the cowardly (to put it in a politically correct way), you will receive penalty points. Almost every room has some sort of soda maker that gives you armor or life points. If you use them, you will lose popularity points. You can see in the image below that you have to say "I'm ad * ick" (which I won't translate you all understood) to get life back. Obviously you lose all credibility in this case!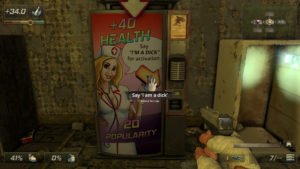 At the end of the level, depending on the score obtained, and therefore the state of your popularity with the public, you will get a random item (good as well as bad). We can see below that the objects can be ... how to say ... relatively irrelevant!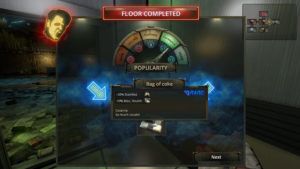 After all that, we arrive in the boss rooms which have nice entry cutscenes. They are monsters with a good number of points of life and generally carrying out their attacks in the form of cycles. You will find two of them below: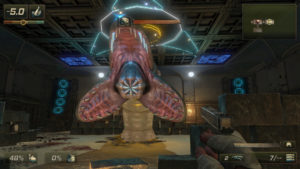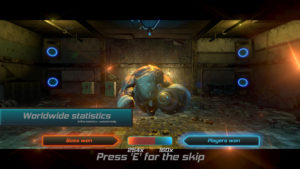 Sound and graphic atmosphere
The game has a really pleasant soundtrack and sticks perfectly to the game. It includes electro as well as rock. On the rest of the sounds, we find the cocktail of horror game noises with a rather stressful atmosphere when the music stops.
The graphic style is relatively beautiful, the same horror game cocktail with blood on the ground, lighting etc. The game is developed using Unity software and the developers use it at 100% of its capacity! The game is very fluid, which is necessary or even mandatory in this kind of very nervous game requiring responsiveness.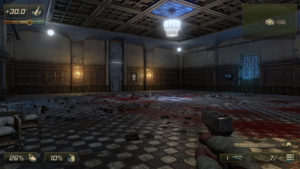 What features will be available?
8 randomly generated levels
8 bosses with their respective cutscenes
A unique interaction system between streamer and viewer influencing the player for good and bad.
About twenty different weapons like Baseball bats or even secateurs for people a little more violent!
Very smooth gameplay in FPS view
Over 150 different objects
References to popculture
The ability to improve your character
Permanent death
Beautiful graphics and a wonderful sound environment
6 unique enemy types!
Conclusion
In conclusion Killing Room is a game that will delight fans of the genre as well as novices. The atmosphere of the game is very captivating and the system of levels generated randomly gives it an "unlimited" lifespan. I guess if the game is a big hit, the developers will keep adding more content as they go, which could make this game as well-known as the very famous Binding of Isaac.
The game will be available in October, notably on Steam: