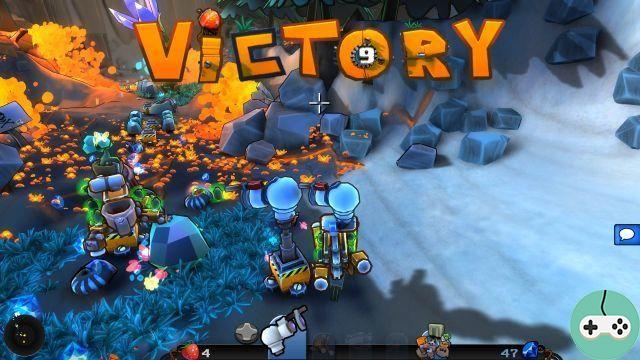 We meet again today for the preview of McDroid. This independent game developed by Elefantopia is a rather original Tower Defense (TD) of its kind.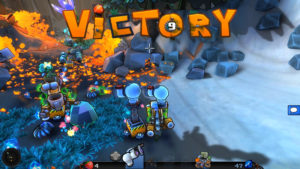 A little bit of history
You are a crawler named McDroid. On board your ship, you travel from planet to planet and as if by chance you come across a field of debris and garbage cans. Despite a ship with artificial intelligence, you crash into a planet completely unknown to your onboard system. The only thing you know is that this planet is not in good shape and that a horde of aliens is not going to wish it all well (and neither for you). You decide, since you can't leave yet, to protect this planet from these nasty monsters.
Despite a fairly rich and humorous base, McDroid suffers from a poor scriptwriting typical of the TD of the moment (Dungeons defender, etc.). We quickly find ourselves with a succession of levels where you will have to protect your ship from enemy waves.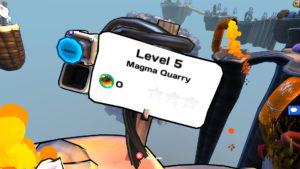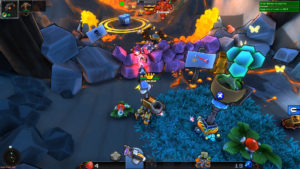 Gameplay and playability
Like any TD, you have several tools to defend yourself. You will have two different currencies:
Strawberries, from seeds that you can plant in certain places of the level, regularly giving you this currency
Crystals, which can mainly be collected from monsters
Strawberries will be used to erect turrets and improve them during levels. This currency is only used in the current level. Regarding the turrets, you should know that they only land on specific points of the map but you can carry them from one point to another, which increases the strategic side. You can also control the different turrets to target your enemies and therefore destroy the targets you want (the AI ​​is still well thought out automatically).
Regarding crystals, it is a currency that will serve you throughout the game because it has two possible uses:
Through the levels, you can increase your robot, such as its armor (to avoid death, for example)
Out of levels, it will be used to increase the efficiency of your arsenal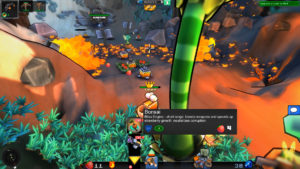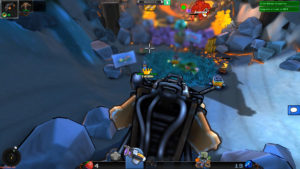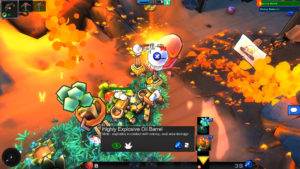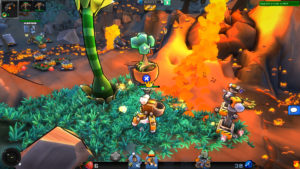 Let's come back to the game a bit. As said above, it's a TD and who says TD means waves of enemies and turret placements. To place your turrets, you will have to put them on stilts or on yourself (one turret maximum). If you don't like the configuration of your turrets, you can change them quickly with a touch of a button. The goal, like any TD, is to protect your base / ship. In addition, you will be able to repair your base thanks to your robot (even if it is very slow).
At the end of each level, you will be rated from 0 to 3 stars depending on your performance and the number of alien souls collected.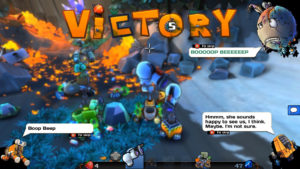 Different game modes
First of all, the game has 13 main levels, which does not give it a long lifespan if we only count the main plot of the game. To overcome this problem, we have:
The challenge versions of the main levels (2 per level), adding specific objectives and increased difficulty (meteor shower, ...)
Arena mode where you have to hold out against as many waves as possible
Bonus levels (Michael Jackson, ...)
In addition, we have the right to a cooperation mode where everyone plays a robot. The advantage of this mode is that you can repair yourself without being close to the ship. Repairing the turrets is also faster.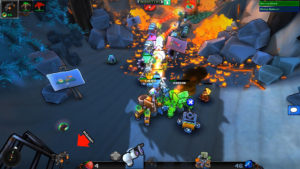 Conclusion
Despite a cartoon graphic side that everyone is not obliged to like (tastes and colors, that is not debatable), McDroid is a good little independent game. The multiplayer is very addicting, especially on the challenge levels where it can quickly become anything.
The humor is also quite present during the story mode, which makes us forget the rather poor script. The game is compatible with all possible controllers (tested with a PS4 and XOne controller) and the gameplay with the controller is very easy.
If you're looking for a little tower defense to pass the time, go for it!