Ellada Games launched in early access a few days ago its 2D action / adventure / craft game, Niffelheim.
Inspired by Norse mythology, the game takes us to a procedurally generated dark world, facing hordes of beasts and monsters, on the long road to becoming a hero. On the program: skills improvement, construction and defense of the castle against the forces of evil, creation of equipment, forging of epic weapons ... A multiplayer component is also part of the game, with the possibility of playing with or against d 'other players.

With all these elements in mind, I am going on an adventure. To start my first game in single player mode, I have the choice between four different worlds:
the hills of the Old Bear : a mountain land, stone and ice, shrouded in cold fog. The abundance of small animals attracts multitude of wolves and other pests.
the forest of the Louve Cyclope : hard land of dark forests, covered with snow and ice. Many wild animals of all types live there for its great abundance of berries and mushrooms.
the wastelands of the Ice Dragon : a desert surrounded by mountains and rocks. Large pests and their prey lurk in the tall, dry grass.
the lands of the Desert Eagle : marshy lands covered with dense fog, where birds hide from pests that watch them in the dark.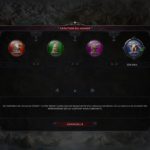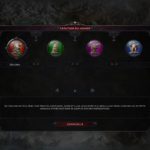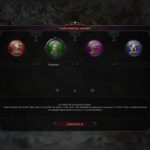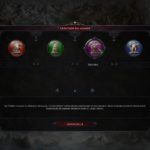 Randomly, I go first and find myself in the hills.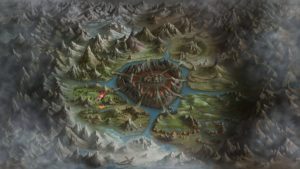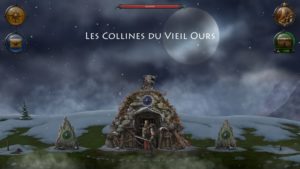 Welcome to the Terres de Niffelheim, warrior! Your fate and fate is in our hands. You have to protect your land from enemies. We need an item called Dragon Ancestor. In return, you will receive our grace and you will be recognized as a great warrior. We'll show you the way to Asgard!
After this beautiful introductory speech, I discovered the possible evolutions for my castle (well, my hut). This little house is my base, the place where I reappear when I die and have to defend against the evil skeletons that attack regularly.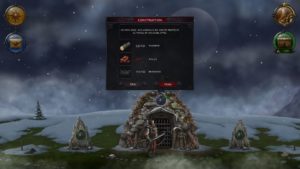 Next to it, three buildings can be created: a henhouse, a sheepfold and a greenhouse.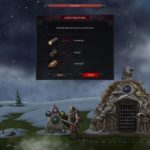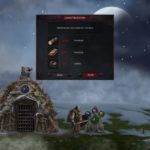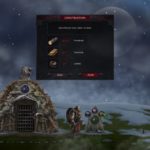 As I need components to build all this, I go on an adventure. The game is in 2D, on a horizontal scrolling principle. Whether it is with the click or with the keyboard, I can thus take my big warrior to the right and to the left. He is armed with a sword with a shield, a bow with arrows, and a craft item (ax or pickaxe).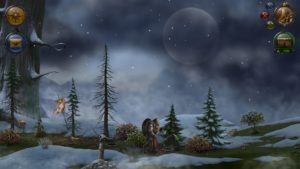 By stopping at the level of the trees, I can cut them down and collect the wood. On the bushes are fruits that give new life. There are also mushrooms (but they are not very recommendable because they lose life!). I advance a little and come face to face with a ferocious wolf. I manage to kill it by clicking wildly, eat a few berries to turn my life up (which has gone down a lot as you can see at the top right) and continue to explore the area. Combat is kept to the bare minimum as there is only one attack and no skills to cast.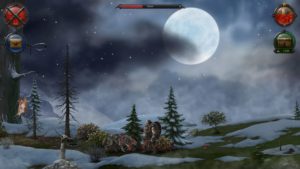 A little further, I come across a strange door. Inside is a room with enigmatic objects but it is still in development so I will have to wait for them to work on it to find out what is going on there. I have found several such dens with NPCs and machines that will certainly be used to create new crafts in the future.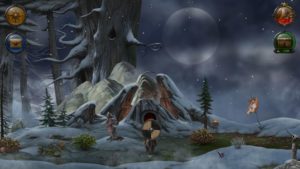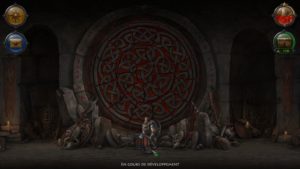 Another door leads me to a much less gleaming place with spider webs and ominous corpses. While being at the level of each door, small arrows allow me to go up and down, because these tunnels extend far underground, hiding more monsters with each level!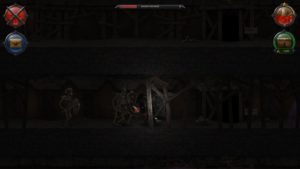 Survival is not easy in these places, I die several times but succeed after a little effort in recovering enough to build walls to protect my buildings. Here are some screenshots from the press site in particular and showing the evolution of this starting point.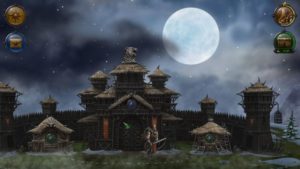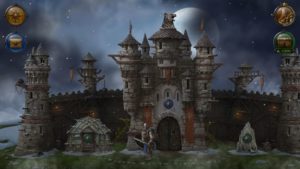 Other images of the different areas to explore with the terrible buffaloes, much more powerful than wolves or even wild boars: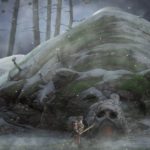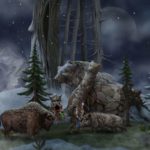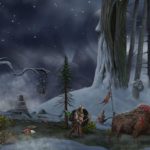 And finally other mysterious caves to explore: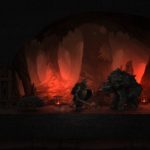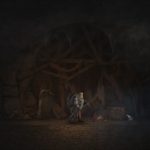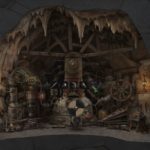 For now in Early Access, the game clearly lacks guides to help understand the objectives and is a bit slow. Exploration is possible without limit, right and left of the castle, but the powerful monsters (they hurt those damn wolves) and the various lairs with multiple floors quickly lost me. So I hope that in the future the developers will work on this point, maybe add quests or intermediate objectives, to help the poor lost player. But the base is good, if not very good, and Niffelheim, between adventure and survival, is already of an excellent level while early access has only just started. I can't wait to see what the developers do in the future!