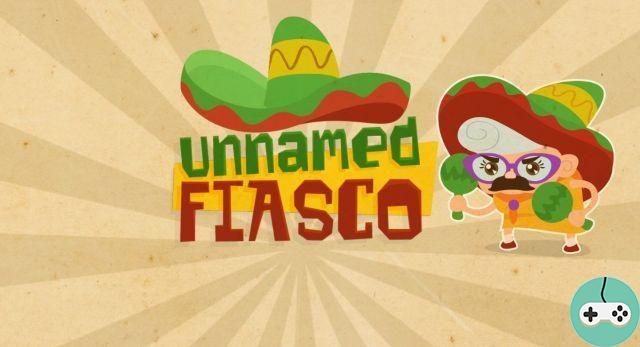 Unnamed Fiasco is a Brazilian game with Latin themes where the emphasis is on fun. The game had a first prototype in 2014 by Team Unnamed Fiasco and was released on August 17 of this summer 2016 on X-Box One and PC.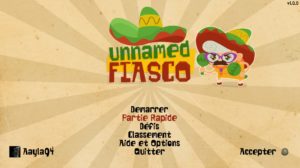 I was able to test Unnamed Fiasco in its local multiplayer part which is both fun and competitive and where 4 people compete in Mexico, with all the stereotypes imaginable: scenarios in the desert, with piñatas and cacti, music Mexican and scenarios as well as the ability to control typed characters like a bullfighter, bull or mariachis. The game does not have an online mode for the moment, I was simply able to test it with my son but it has already given rise to some frenzied games.
A little gameplay
In the game, you are placed in a 2D arena with other players, and you must seek to collect items that unlock weapons with different powers depending on the item collected. Each weapon has its pros and cons, but the goal remains the same: defeat other players.
To make it even crazier and cooler, every once in a while the game will regularly kick off a one-minute craziness moment where all the rules can change. Mods are then activated bringing various changes such as ricocheting bullets, zero gravity, upside down screen, reverse controls, teleports, grenade showers and more.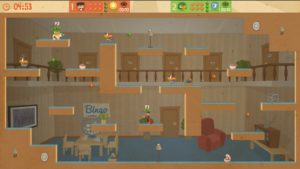 Each character has a certain amount of ammo before the reload display comes in and they have to wait to reload the weapon. In the scenery, by typing piñatas, you will find different weapons that grant certain powers such as a shield, more powerful weapons or bonuses that can disturb opponents, disarm them or knock them out for a certain time.
What changes compared to titles of the same genre is the principle of clones. Indeed, Unnamed Fiasco rewards your mistakes by creating each death a clone of you who can really help you! Everything is normal until your first death. After this you come back alive with an uncontrollable clone that remakes your previous moves and can interact with the enemy and kill him, which will validate you a point.
The chaos factor is very present in the title because if you perish several times, you will have more and more clones which will support you in the fight and your adversaries alike which will make the small combat space completely crazy. Not to mention the crazy minutes, of course, and the other game variations.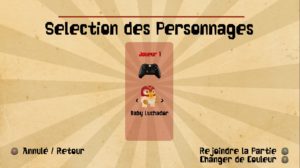 The game features cartoon characters such as an old lady with a mustache, a baby luchador, a bull or a Torero who will then fight against an exotic oasis, bullfighting arena, retirement homes and more. !
The game modes
Among the game modes present, classics of the genre: "fight to the death", "treasure hunt", "gendarmes and thieves", "capture of the flag" and badge. Single player mode on the other hand is very basic, as it emphasizes completing multiple challenges as quickly as possible, which makes this part a bit boring.
Having playmates on your couch is still the best way to have fun on Unnamed Fiasco. All of these modes are doable on multiple multiplayer maps, oases, arenas, deserts, and other Mayan temples.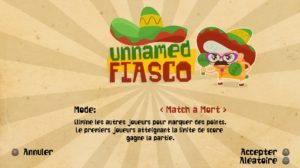 My opinion
graphics a little too retro and not necessarily pleasing to the eye
a bit repetitive music
no online mode for those who don't have friends on their sofa
if you have friends on your sofa it's a great aperitif game
easy-to-learn gameplay
giggles guaranteed (except for sore losers!)
Despite the absence of a true single-player and online mode, and the simplicity of the title in general, Unnamed Fiasco is an excellent multiplayer aperitif game with gameplay and game modes that allow you to vary the pleasures with your friends.
If you like to humiliate your friends before you sit down to dinner, this game is for you.
Unnamed Fiasco released on PC and Xbox One on August 17th you can find it on Steam