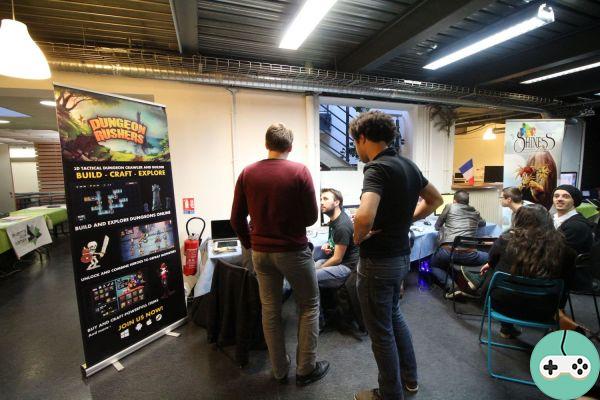 On the occasion of the Indie Game Play event, the managers of Goblinz Studio came to present their latest baby, Dungeon Rushers.
After a failed campaign on Indiegogo, the project has evolved a lot recently, notably having changed the game engine to switch to Unity (in November 2014) but also its economic model (it will not be free-to-play). The game is presented in two phases:
build a dungeon using tiles and adding monsters
attack and explore other players' dungeons (in asynchronous mode)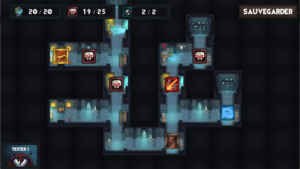 Our characters evolve by exploring dungeons, gaining experience and unlocking new skills. History matters with a campaign requiring you to build various dungeons. Humor is not to be outdone, in the Dungeon style of Naheulbeuk for those who know. For example, you wonder who lights the torches in the dungeons before the adventurers arrive? The technical team of course!
The campaign takes us through various environments, from the abandoned dungeon to the goblin infested mountain. To survive, it will be necessary to know how to use the skills of our characters. Elian, for example, can observe the tiles around him to avoid having to observe everything.
You will understand: the goal is to offer a feeling close to a board game. Dungeons are all made up of tiles that you can put together.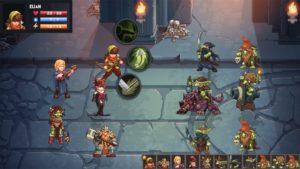 Although it is possible to visit anyone's dungeons through a matchmaking and league system, a friend-match system allows you to challenge your friends through round-trip matches. The winner is the one who managed to defeat the other's dungeon or, in case of a tie, the one who is faster.
By completing dungeons, you get loot, as well as gold. Who says loot, says crafts to improve your equipment. Gold, on the other hand, is used to buy equipment.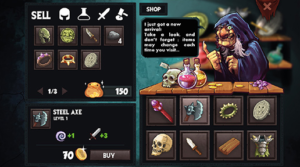 Rather well completed, the game is already playable in an almost functional version on various platforms. The content may still be a bit tight, with 5 heroes and 10 monsters. So they still have a bit of work to do on this side. That aside, dungeon exploration already seems to be off to a good start!
Style: 2D dungeon exploration and construction game.
Team: 8 people (part-time, evenings and weekends).
Project age: since the end of 2013 full time.
Lifetime: unlimited.
Expected sale price: 5 to 7 euros.
Platforms: PC, Linux, Mac, Android and iOS (or more via Unity).
Launch: end of 2015. Greenlight and Campagne in spring.
A little video to conclude: